OUR TEAM
Our team is the primary reason our clients recommend Bishara Est. LLC to others. Their unique skills and infectious energy help our clients focus on what matters most. Our people actively engage from the C-suite to the front line with a collaborative style that emphasizes teamwork, trust, and tolerance for diverging opinions.
OUR MANAGEMENT TEAM
Our Management Team put our clients first, with a relentless focus on delivering innovative, bold solutions.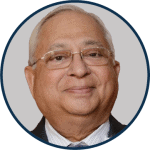 Ken Borthwick
Chief Mentor & Founding CEO
CLICK TO VIEW PROFILE
Under the guidance of H.E. Dr. Omar Zawawi, Mr. Borthwick established Bishara Est in 1983 and grew the organization into a multi-disciplinary company with 160+ dedicated people.
He has a B. Tech (Hons) – Electronics from IIT Mumbai and a Diploma in Marketing Management from Jamnalal Bajaj Institute of Management.
Viju Philips
Chief Executive Officer
CLICK TO VIEW PROFILE
After successfully completing a B.E.-Production Engineering and an MBA, Mr. Philips, started his career with Modi Xerox, India, in the early 1990's. In 1998, he joined Bishara Est. as the Sales & Marketing Manager, and progressively grew to handle varied responsibilities.
"These last 21, years were truly eventful working with TEAM Bishara, under the mentorship of Mr. Ken Borthwick, striving for both Profitable Revenue Growth and Organizational Excellence in the various spheres of our Business activities, that encompass our Customers, Employees, Principals. Bishara Est's philosophy of Customer Satisfaction, Employee Empowerment, Constant Diversification into newer Business lines has stood us in good stead, across the last 3 decades, and we shall continue to strive with the same philosophy going forward"
V. Raghuraman
Sr. General Manager – Supplies & Logistics
CLICK TO VIEW PROFILE
Mr. Raghraman joined Bishara 35 years ago in the Accounts Dept. He has had a consistent career growth in Bishara, culminating in his current position as Senior General Manager – Supplies & Logistics.
To tap into the huge supplies and stationery business potential, he ventured into sales of Photocopy Paper, Office Stationery, and 3rd party Consumables. We quickly started winning major Government and Private Sector tenders for long-term supply contracts.
P. K. Ramesh
General Manager – Finance & Administration
CLICK TO VIEW PROFILE
Ramesh joined Bishara Establishment 34 years back in the Accounts Department. He has to become the General Manager of Finance and for our Core ERP Systems
"Our financial systems and procedures are stable. They are properly defined and appropriately maintained. My focus is also to train and empower talented Omanis so that they can progressively replace expatriates in several accounting and finance work areas."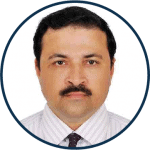 Saswat Satpathy

General Manager – Digital Presses and Office Equipment
CLICK TO VIEW PROFILE
Mr. Satpathy joined Bishara in 1993, as a Marketing Consultant. He had a consistent growth in Bishara, culminating in his current position as General Manager – Xerox Digital Press Soln. Besides he oversees the business for several Office brands i.e. Brother / Benq / Optoma / ACCO / Powis Parker / Smart / Zebra etc.
He has across the last several years been extremely popular with the Commercial Printers in Oman having an install base of close to 30+ Digital Presses in various commercial printers, including the latest Xerox Iridesse, the first ever 6 colour Digital press.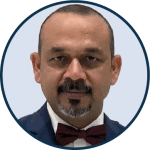 Sumit Rana

General Manager – Banking & Security
Solutions
CLICK TO VIEW PROFILE
Having joined Bishara's Sales Division in the year 1999, Mr. Rana has held several successful assignments, acre every Business Division within the company, and is today the General Manager – responsible for our Banking and Security Solutions.  His Portfolio includes, Verifone Payment Solutions, Bill Payment Kiosks, Q Management Solutions, POS Managed Services, CCTV/ Access Control and Baggage Screening.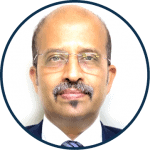 B. Ravindran

General Manager – Service & Technology
CLICK TO VIEW PROFILE
He started his career in Bishara Est. as a Service Engineer 29 years ago and progressed steadily to the current position of GM- Services & Technology.
Bishara provides benchmark Service to our clients in Oman. Service locations are at Head Office + 4 Branch Locations + 3 Remote Onsite Service locations for the Petroleum Industry. State-of-the-Art, Call Logging and Service Follow-up System He has under his portfolio, 1000+ satisfied Clients, across Oman.
Madhur Bhatnagar

Dy. General Manager – Office Technology
CLICK TO VIEW PROFILE
After an initial stint with Xerox in India, he joined Bishara as a Marketing Consultant 22 years back in 1997, and gradually moved up the ladder,
He is responsible for Xerox Office Products and Solutions, including Managed Print Services (MPS).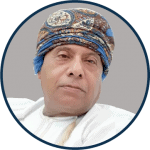 Essa Al Balushi
Asst. General Manager – Administration
CLICK TO VIEW PROFILE
Essa has been an integral part of the Bishara Team since our inception in the year 1983. He ensures all the HR and Admin requirements of the company.
Adil Al Balushi
Asst. General Manager – Debt Collection
CLICK TO VIEW PROFILE
Adil joined Bishara in the year 1999 in the Debt Collection Team. Over the years he has risen to hold the rank of Asst. General Manager for our Customer Receivable.