ABOUT US
Bishara Est. was established in 1983 and is one of Oman's leading Information Technology, Total Office Solutions, Total Security Solutions, Point of Sale Solutions, Educational Laboratory Equipment, Supplies and Stationery Providers.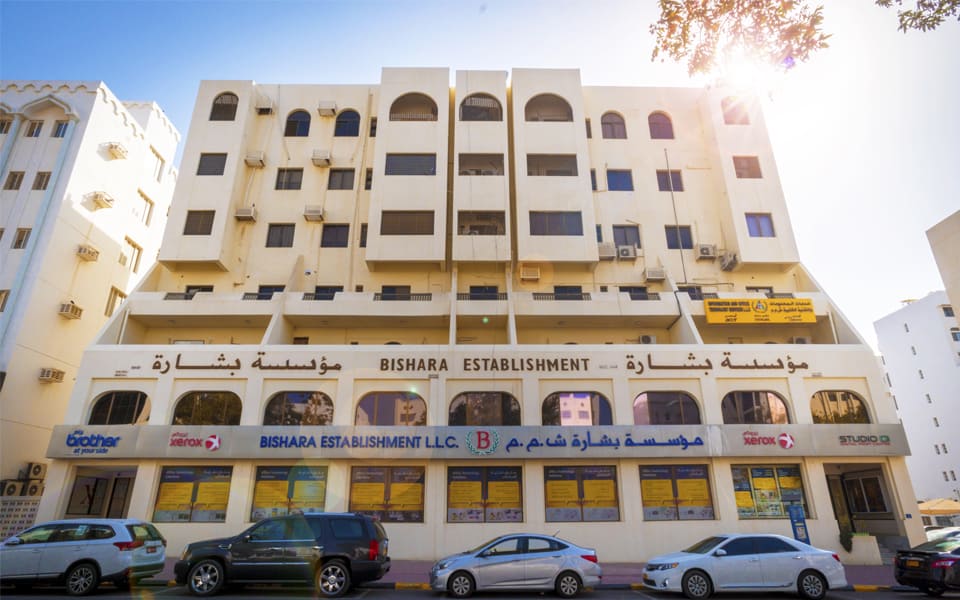 Bishara Establishment L.L.C., a member of the prestigious OMZEST Group.
Since our inception in 1983, Bishara has developed an impressive client base in the Government, Banking, Petroleum, Contracting, and Educational Verticals and has earned extreme customer loyalty by offering world-leading products and services representing excellent value for money, backed up with professional and reliable service support.
Bishara' s Customer Care and Service Department – "BESTCARE" has secured and maintained the prestigious ISO 9001:2015 Quality Certification since 1997 and is the only Office Equipment Service Operation in Oman to have secured this distinction. BESTCARE takes pride in being the 'benchmark' for Service standards and for providing 24/7 Service to its customers.
BISHARA EST. LLC OFFERS CUSTOMER-SPECIFIC SOLUTIONS
Bishara Establishment L.L.C., is the leading IT, CCTV Security Solutions, Point of Sale Solutions, Digital Signage, Office Technology, Managed Print Solutions, Stationery, Queue Management Solutions and Color Graphics Services Provider in the Sultanate of Oman.
``The best part is, when you need them, they are here! They are quick to respond and get our business up and running smoothly again. I would highly recommend them.``

BANK MUSCAT SAOG / Head of IT
``We are pleased with the service that we have received. Every time we have an issue and they are quick to respond. The staffs are always helpful and friendly.``

AL BUSTAN HOTEL / General Manager
MISSION
Bishara Est. focuses on one unswerving Principle; that of providing only the very latest and best in relevant technology to Oman's discerning customers and supporting these products with matchless after-sales service. "Aiming for Excellence in Everything We Do."
VISION
Maintaining Customer Satisfaction at high levels through improved Service Deliverables. Maintaining Employee Satisfaction, Loyalty and Motivation at very high levels.
SENIOR MANAGEMENT
VIJU PHILIPS
CHIEF EXECUTIVE OFFICER
Throughout our history, we have been a wellspring of innovation, creativity and technological advances. And I am proud to say, Bishara Establishment LLC plans to continue its heritage of leadership in the markets we serve and in the communities where we live and work. While our constant desire to improve will change some of the things we do as a company, we will always continue to exercise ethical business practices, maintain a respect for the individual and run our business in ways that earn us the trust of those whom we encounter.
THE LARGEST OFFICE AUTOMATION COMPANY
With head offices in Ruwi, we employ a far-reaching national network that stretches across five interiors and includes the largest distribution network and hub operations in the Muscat.